Dreaming between desert and sky, modernity and mysticism
The United Arab Emirates is best known for the dazzling, yet hypermodern and traditional Dubai and its skyscrapers, palm-shaped islands and vast desert landscapes. North of Dubai, Sharjah is the UAE's arts and heritage center, while Ras Al Khaimah is all about the beach.
Abu Dhabi, the capital of the UAE, is a cultural center and a very popular vacation destination.
The magical silence of the gently gliding dunes in the Rub Al Khali (Empty Quarter) desert will give you an unforgettable experience.
The eastern part of the UAE in the Hajar Mountains provides a very different and tranquil atmosphere – in contrast to the kaleidoscopic, science fiction-like modern Dubai and Abu Dhabi.
The United Arab Emirates (UAE) is a destination that has something for everyone. From luxurious accommodations to thrilling outdoor adventures, there's no shortage of things to do and see.
We have partnerships with many accommodations and resorts and would like to feature the following for this destination:
Abu Dhabi (desert)
Qasr Al Sarab
With its sumptuous accommodation, delicious flavors, thrilling desert activities, and signature blend of indulgences, Arabian hospitality, and contemporary charm, the resort is the perfect place for luxury travel enthusiasts to experience the beauty and mystique of the desert.
View more
Dubai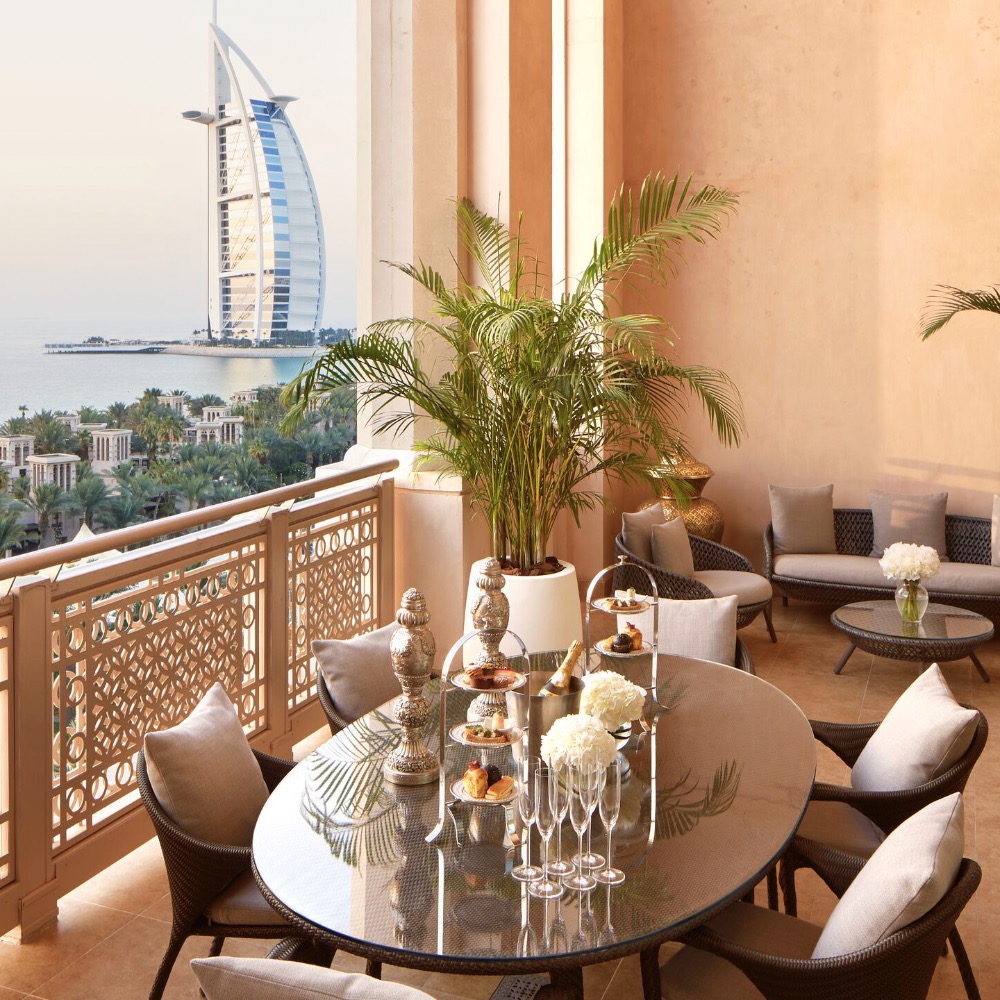 Jumeirah Al Qasr
Experience a truly royal stay at the Jumeirah Al Qasr in traditional Arabian style with breathtaking views of the sea and the resort with many attractions.
View more
Resorts in Abu Dhabi: your bespoke luxury holiday
Abu Dhabi is home to some of the most luxurious resorts in the world. If you're looking for an indulgent vacation, we'll find a special accommodation for you, such as a suite in the marina, complete with a private beach and spa.
Our bespoke concierge service includes travel arrangements and reservations, restaurant recommendations, personal shopping and delivery services, entertainment bookings and tickets, private access to exclusive venues, spa and wellness services, childcare and pet care services, as well as home management services like cleaning and maintenance.
United Arab Emirates luxury hotels: discover Dubai
Are you dreaming of an unforgettable escape filled with opulence and tranquility? Indulge in the ultimate getaway at a Dubai desert luxury resort, where unparalleled opulence meets stunning natural beauty. Immerse yourself in the lavish Arabian splendor while surrounded by sweeping sand dunes and breathtaking vistas. The exclusive resorts we offer are a perfect blend of modern sophistication and traditional charm, ensuring an unforgettable experience for discerning travelers who seek the finest in luxury accommodations. With world-class amenities, exquisite dining options, and bespoke experiences, a Dubai desert luxury resort promises a serene escape from the bustling city life and an extraordinary journey into the enchanting desert landscape.
Special Emirates activities
The United Arab Emirates is a hub for jewelry enthusiasts, with Dubai being particularly known for its gold market. You'll find intricate designs and beautiful gemstones, heading to the Gold Souk in Dubai to browse the wares of more than 300 retailers.
A morning desert safari is something not to miss: hop into a 4×4 vehicle and head out into the dunes, then ride a camel to get into the desert mood. For a truly immersive experience, consider booking overnight desert camping under the stars. Enjoy a barbecue Bedouin dinner, and participate in activities like camel rides, falconry, and sandboarding.
While on the seaside you can book a fishing tour to try your hand at catching tuna, kingfish, and more. Some fishing tours even include cooking classes so you can learn how to prepare your catch. If you're looking for a fun activity that's also a great workout, try stand-up paddleboarding (SUP). The UAE's calm waters make it a great place to try this sport. You can rent a paddleboard and explore the coastline on your own, or book a guided tour.
Abu Dhabi has a vibrant nightlife scene, with plenty of options for those who want to dance the night away. Check out clubs like MAD on Yas Island or Caramel in the St. Regis Saadiyat Island Resort for a night out you won't forget.