Ostuni Old Town
Luxury Apartment in Ostuni old town
Built over a thousand years ago and beautifully refurbished, this apartment offers lush interiors with a living room, 1 bedroom, a kitchen and a terrace with a wonderful view across the landscape. You will enjoy the warmth and the elegance of a small private apartment, decorated with self-made art sculptures and paints. The apartment is located centrally in the old town of Ostuni. You will be able to reach several restaurants and bars during all day. Breathtaking beaches and the natural reserve of Torre Guaceto are just 20 minutes drive from your accommodation. You will park your car outside of the old city and we will organize the pick-up for your and your partner.
Particularly open to lgbt tourism, this apartment and its wonderful owner will offer you a warm welcome and give you precious suggestions on how to discover Ostuni and the wonderful Itria Valley.
Ostuni is also the ideal base to organize daily excursions in the nearby Salento or bike tours among the world's largest olive groves! We will be happy to provide you with a detailed travel plan including every useful suggestion to make your holiday unique and unrepeatable. This building is perfect for those who want a very quiet and relaxing holiday, without giving up the nearby beaches of the beautiful Salento coast.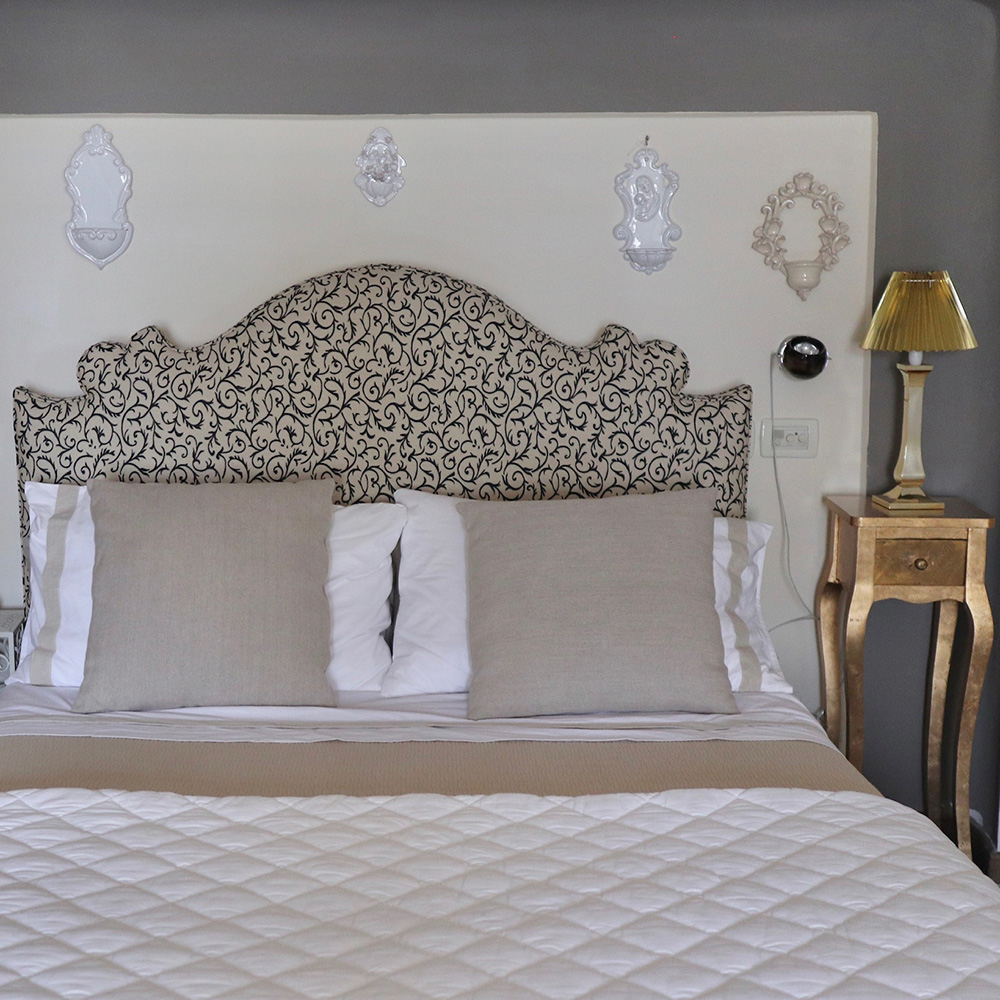 Included services:
Bath towels: daily change
Bed linen: weekly change
Internet: Wi-Fi
Luxury apartment with Kitchen, bathrooms and bedrooms
Welcome basket
Reviews
Anfang Juni waren wir für eine Woche in der wunderschönen Unterkunft in der Altstadt von Ostuni/Apulien/Italien. Exklusive Wohnung inmitten der historischen alten Gemäuer mit einem fantastischen Blick!!! Von der Terrasse aus sieht man das Meer und die lange Küste - einfach nur traumhaft. Die Wohnung ist durch ihre Bauweise und Gewölbe immer kühl und angenehm, sodass wir auch in heißen Nächten immer gut geschlafen haben. In der Nähe befinden sich viele tolle Bars, die romanische Kirche, die Piazza Sant'Oronzo und die ansässigen Dorfbewohner sind stets gastfreundlichen und für ein Gespräch sehr offen. An einem Vormittag hatten wir auch einen privaten Fotografen dabei, er hat uns begleitet und wunderbare Bilder von & für uns gemacht. Das Ganze wurde durch Voyemo organisiert und hat reibungslos geklappt. Dank Riccardo hat es uns an nichts gefehlt, es war alles perfekt organisiert und wir fühlten uns von Anfang an sehr wohl! Jederzeit wieder mit Voyemo - GRAZIE MILLE Ric 😉

Thank you, Voyemo. I had a fantastic time in South Africa and Zanzibar because of you. After a first proposal, Riccardo took time to understand my style of travel and planned it for me. The choice of hotels was exquisite, and the travel design was on point. All along with my trip, Riccardo made sure I was enjoying it and that everything was ok. Do not hesitate and travel with Voyemo

Per la seconda volta abbiamo organizzato una vacanza con Voyemo: questa volta in Toscana, nel favoloso Resort "Borgo I Vicelli". Appena rientrati! Un'altra meravigliosa avventura. Ciò che fa la differenza è che Voyemo riesce nel cogliere l'indole di viaggio dei clienti, delle loro famiglie, riuscendo a creare esperienze indimenticabili per tutti, adulti e bambini. Grandi!

We just finished what turned out to be an amazing 2 week stay in Florence and the surrounding areas. Where to begin…Riccardo made our time there a true Italian experience without any glitches. We were able to discover a few real treasures of the Florentine and Tuscan offerings.