Cora Cora Resort
An idyllic 5-star SPA resort immersed in the shimmering waters of Raa Atoll
Staying at the Cora Cora Resort means someway becoming part of the tropical vegetation and sparkling turquoise sea. But do not worry, you can take advantage of the services of the best spa resort in the Maldives!
Cora Cora Resort is a brand-new, splendidly designed, white sands resort in the Maldives.
It provides an unrivaled experience, offering accommodation in 100 independent villas spread out along the beaches, beachfront, and even right in the water of Maamigili Island.
Cora Cora, not just a vacation home in the Maldives
Superb for honeymooners, families, couples and groups of friends of all ages, the resort comprises a variety of huts, thatched-roof villas and buildings that blend marvelously with the luxuriant vegetation and aqua-blue sea, and supply all one could ever need or dream of.
Tastefully selected amenities and stylish beach-style furnishings highlight the villas' characterful charm, and most of the seafront ones offer perfect privacy and boast spectacular views of the ocean.
Cora Cora resort's philosophy can be summed up in the word "freedom", and freedom is indeed what one enjoys at Cora Cora, thanks to both the private villas and the "free dining concept" which allows for a variety of fabulous dining and drinking options, including Japanese, local and Italian, available 24/7!
A superb spa resort in the Maldives
Relax and rejuvenate at Cora Cora! Wellness is guaranteed with an excellent spa offering treatments in 7 different suites, 3 of which are overwater. There are special spa experiences for couples, and the resort also offers yoga, meditation, tai chi and qi gong classes taught by professional instructors, as well as sensational on-site experiences including island tours, sunset cruises, whale and dolphin watching, scuba diving and snorkelling safaris.
Exclusive best prices when booking with Voyemo
Since the resort opened, we have developed a close relationship with this partner resort, so we are guaranteed to offer you the best rates for your dream holiday in the Maldives. Enjoy preferential treatment during your stay, a perfectly tailored leisure programme and lots of personal tips from us.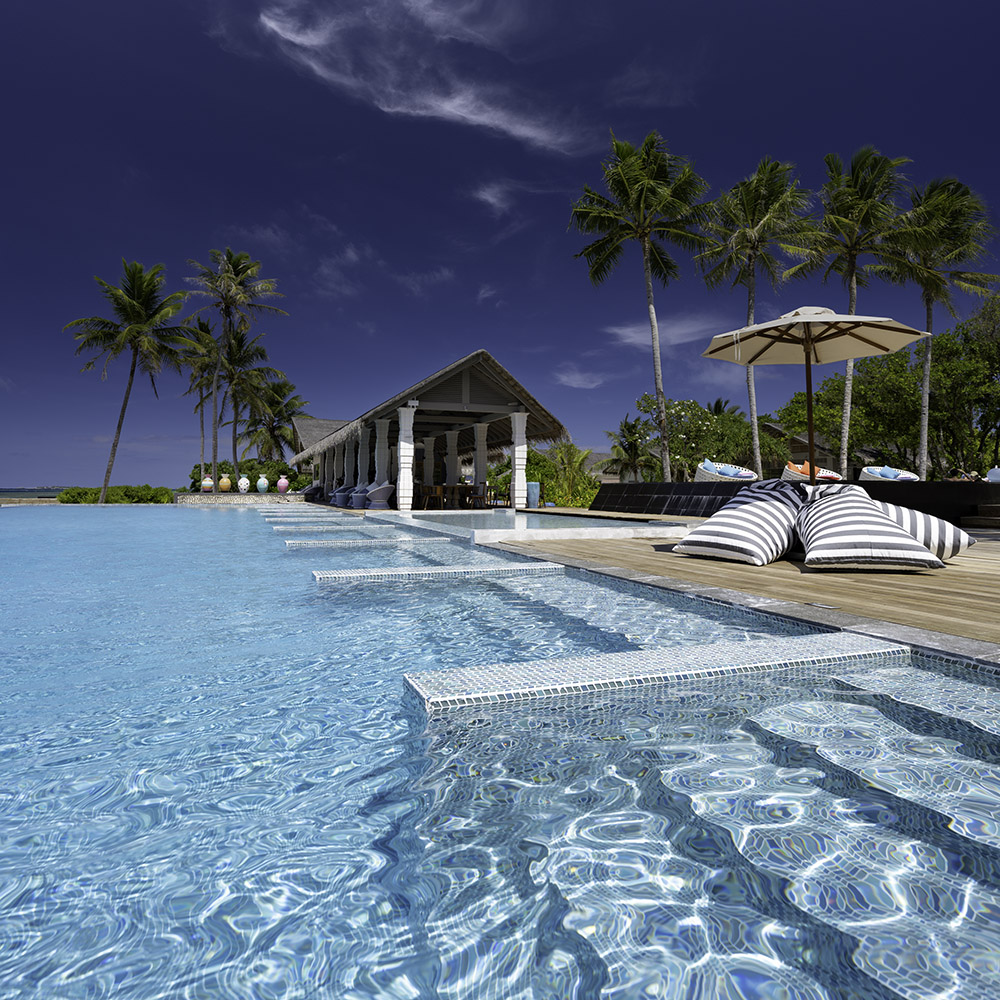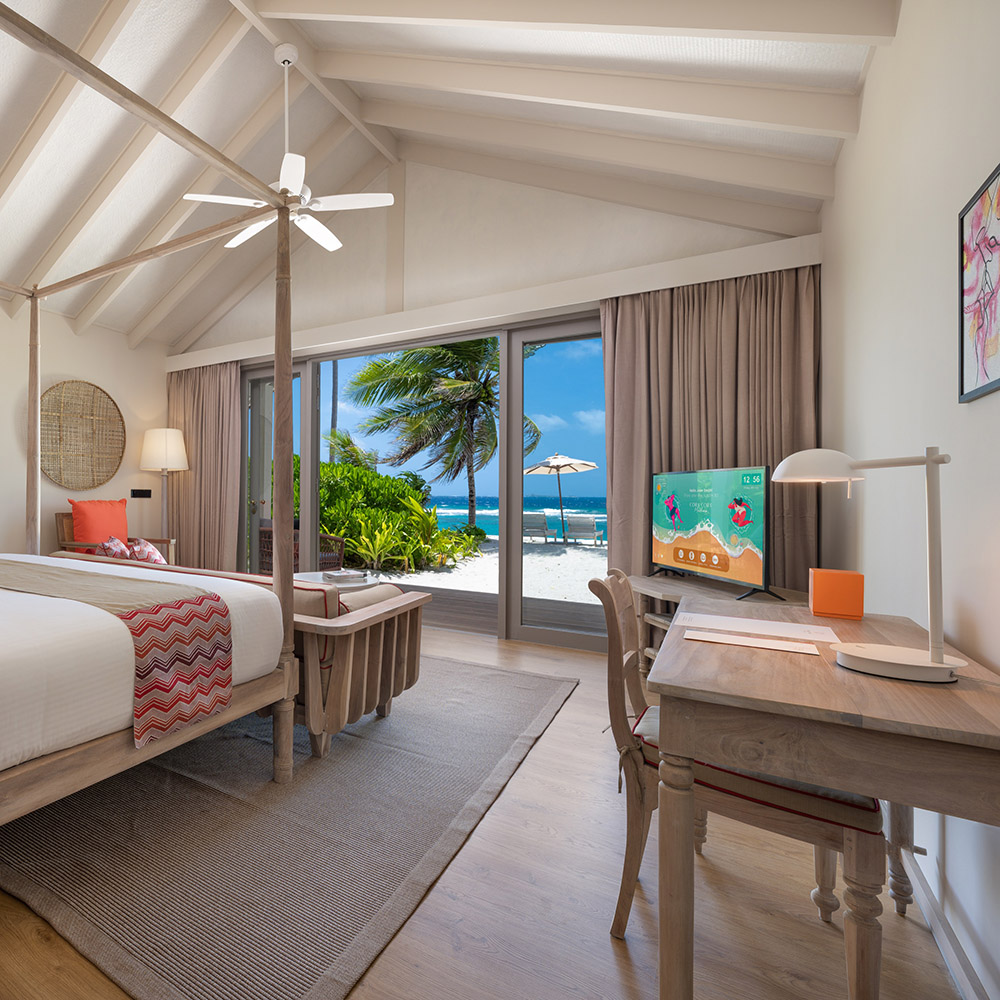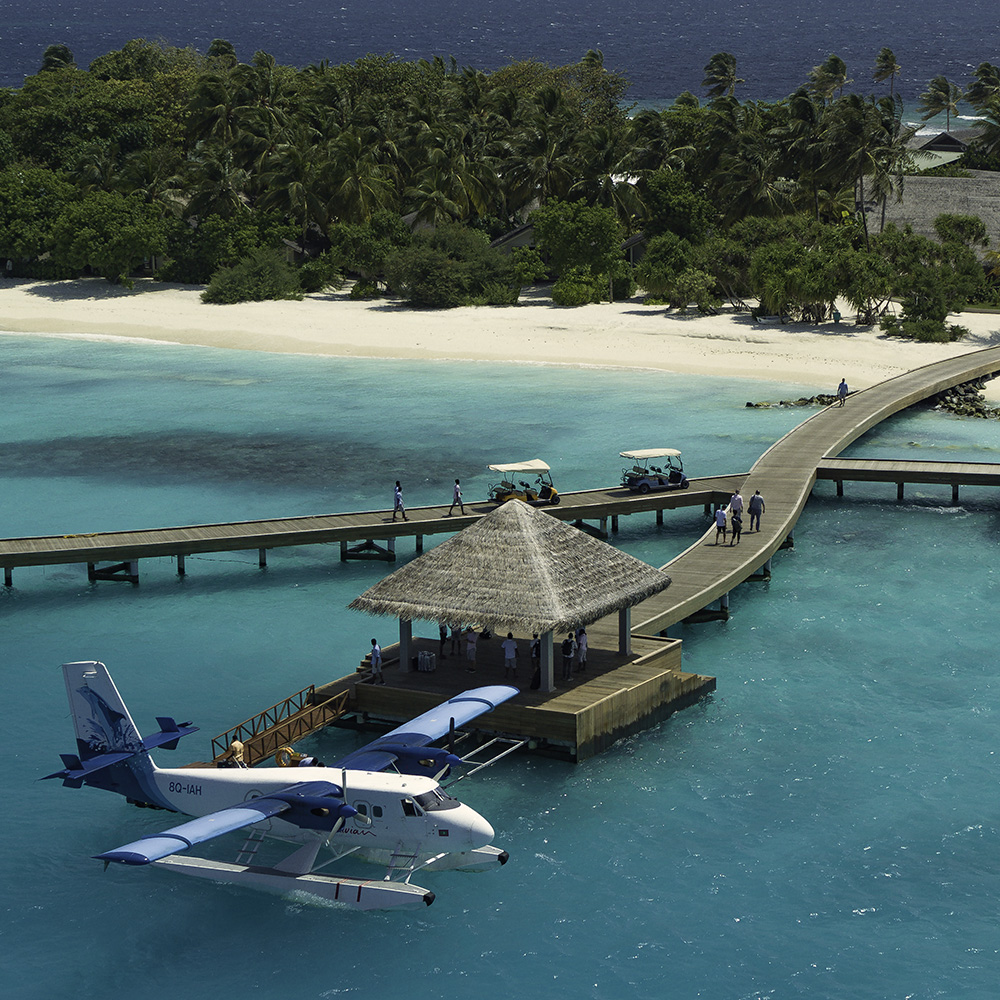 Amenities & Services
100 luxury vacation homes of diverse sizes located on the beach and/or right on the water
Top-notch private facilities, including panoramic terraces and swimming pools
Spectacular ocean views and finely outfitted premises
24/7 dining and drinking at 1 bar & 4 restaurants, including Italian, Japanese and Asian
A luxury Spa, Sports activities, including scuba diving and snorkeling
A Museum featuring collections of local artifacts from the pre-Islamic period to the colonial period
Reviews
My girlfriends and I took part to the tennis camp organised by Voyemo in Sicily and loved it. The organisation was impeccable, the hotel gorgeous, the food delicious and the David, our tennis couch, outstanding. Highly recommended.

Riccardo was absolutely great to work with. He planned an amazing adventure for my sister and myself through Ecuador and the Galápagos Islands. All the details were sorted and we had absolutely nothing to worry about on the trip except to have fun. I definitely recommend working with his expertise when planning any adventure!

Thank you, Voyemo. I had a fantastic time in South Africa and Zanzibar because of you. After a first proposal, Riccardo took time to understand my style of travel and planned it for me. The choice of hotels was exquisite, and the travel design was on point. All along with my trip, Riccardo made sure I was enjoying it and that everything was ok. Do not hesitate and travel with Voyemo

Riccardo and his team at Voyemo are top class travel experts. They created the most wonderful tailor-made honeymoon through Italy for us this summer which included the most beautiful hotels and many fun and memorable activities as well. They made sure all of the hotels looked after us well and provided us with lots of tips along the way to make sure we didn't miss out on any good spots. The customer service is brilliant, nothing is too much for the team. We are so grateful to them for helping us create the best memories possible. We would highly recommend them for any luxury travel needs and will definitely use them again. Thanks so much! Anna and Marc

I was looking to go away for a week to for some much needed restbite. I came across Riccardo's website. I gave him a call and he offered several suggestions that may be suitable. He was travelling during these times but this didn't stop him from getting back to me and emailing me the relevant details when he was able too. I chose the island of Ios in Greece and had a wonderful time. They staff were very friendly and helpful. It was a lovely hotel and resort. Riccardo arranged my ferry and made sure I had all the right details and was at the end of the phone if I got stuck. I did need to message him a couple of time whilst I was there with some queries and he always got back to me quickly and efficiently. Riccardo is friendly and helpful and the organisational skills of his company have been very helpful and a blessing especially during COVID new rules and regs. I would recommend using Riccardo if you just want to go somewhere and leave the details up to him.

We had an experience of a lifetime. Ricardo looked after every detail leaving us to enjoy a wonderful time. We look forward to using Voyemo on our future trips to Europe. Also our photographer, Christian, is a must.

An Amazing Experience All Around Riccardo and Voyemo helped us plan our trip to Sicily and Lisbon. The trip was incredible, but the whole experience was more than we could have ever expected. First, even as we were just planning our trip, Riccardo put together possible trip ideas for us based on our budget. After we picked the location, he made recommendations for excursions to enhance our trip. He met with us multiple times in the process and was always attentive and responsive. When an issue came up with one of our excursions, he contacted us quickly with two options to help us replace it quickly and seamlessly. Even after we took off, Ricardo stayed in contact regularly to make sure everything was going as planned. When we had problems with the airline (unrelated to anything Voyemo was responsible for) Riccardo was messaging us in real-time, to make sure we okay and coordinating with our accommodations and transports. Every partner and connection they had went above and beyond anything we could have possibly hoped for. Each hotel/inn/resort took amazing care of us, but it was more than that. His contacts were genuinely lovely people, and they all were determined to ensure we had an amazing vacation. I cannot recommend Voyemo highly enough. They are skilled, generous, and most importantly kind. We had an experience we will never forget.

Voyemo and Riccardo created a beautiful itinerary for us that included our dog to Italy. They nailed all the details for it to be pet friendly! We enjoyed it very much! It was all very amazing! Thank you Voyemo and Riccardo!

The Voyemo Team made us an unforgettable holiday experience in Crete. It was a pleasure talking to theses guys and plan things around our long weekend trip. The place they offered was far beyond expectations and we loved the local vinery in that small village. Keep on going guys and talk to you soon for our next journey around September!!

We just finished what turned out to be an amazing 2 week stay in Florence and the surrounding areas. Where to begin…Riccardo made our time there a true Italian experience without any glitches. We were able to discover a few real treasures of the Florentine and Tuscan offerings. It was like opening a gift around every corner and every day. Riccardo was able to help us plan every detail so that we had no stress…for us everything flowed so easily…although we know Riccardo was hard at work 'behind the scenes' ensuring that all our expectations were surpassed! He was courteous enough to meet us at the airport in Florence with a private transport to our luxurious hotel in the Oltrarno district where we found a beautiful bottle of Chianti Classico waiting for us, a perfect way to unwind after the long journey. During our stay, Riccardo was the perfect blend of host, friend, and expert adviser. He allowed us our space and let us choose how busy or not we wanted to be. In Florence, he organized a tour of the Vasari Corridor (so interesting!), an evening of fine wine and aperitif, a sunset tour by private car to piazzale di Michelangelo and San Miniato al monte, an evening opera outdoors at nearby Fiesole, and a day trip to San Gimignano (also by private car). In San Gimignano we had dinner at an amazing Tuscan Osteria and we were able to stay in the town late into the evening, eating gelato, walking, and talking. I highly recommend this, because San Gimignano is magical after the dinner hour…all the crowds of tourists leave by bus and you can really feel the true spirit of the town in those later hours. He also introduced us to several (non-tourist) bars, gelaterias, and restaurants in Florence, all the while entertaining us with the history of all that we were seeing. He is so knowledgeable and we loved to listen to him speak Italian as we are trying desperately to learn this lovely language. He also speaks perfect English for those that need it! We are so happy that we had these two weeks and that we had Riccardo's assistance. With his help our two week vacation was truly maximized because we avoided the time consuming and sometimes expensive blunders that we usually make on our own, and we learned so much about Florence, the art, the history, the food, the wine… We feel as if we floated through time into another world. We returned home completely relaxed and we are dreaming and planning our return!

Voyemo's Retreat in Zanzibar was a perfect combination of doing and being, but right doing and right being that energized and refreshed me. My professional life in the past year had been intense. I had the impression of having little time and no energy to engage my body in a dynamic way. When I did have time, it felt difficult to self-motivate and to choose by myself a suitable, consistent program. In the days of the Voyemo Retreat, I accomplished more than I expected. Under the highly-trained expertise of Dennis both as a yoga instructor and as a fitness trainer, my body grew stronger, more flexible, more dynamic. The deeper tensions in my body were softened by the therapeutic massages of Larissa. There was also time to enjoy the beauty of Zanzibar. The body loves attention, movement, relaxation and adventure. Voyemo's Retreat delivered it all and gave me a boost to make my own path to better health.

Voyemo // Riccardo were absolutely fantastic in my search for a wellness escape. I stumbled across their site via Google. After sending Riccardo some details of what I was after I had a shortlist of incredible options in no time. Riccardo was incredibly helpful, knowledgeable and so easy to deal with. I had the most beautiful stay in Mallorca and couldn't have asked for anything more.

Riccardo at Voyemo did a fabulous job planning and coordinating a trip of a lifetime to Italy for me and my husband. They did an incredible job pulling everything together, and provided guidance and updates along the way. Additionally, Riccardo worked with travel plans I already had, and efficiently navigated around various conflicts and travel needs. I will definitely partner with voyemo in the future for any big trips I have coming up!

欧州は6回目ですが、初めてのイタリア旅行でしたし、イタリアは特にかなり見どころ満載でガイドブックだけでは判らない事が多かったので、思い切ってネットで見つけたリカルドさんにお願いしてみました。 見知らぬ人でしたし最初は少々不安でしたが、やり取りしているうちに人柄が伝わって安心してお任せ出来ました。 ベニス、ベローナ、フィレンツェそしてローマでの2週間滞在のホテル、電車での移動、車の送迎、ツアーガイド、オプショナルツアー、PCR検査の予約まで、航空券以外は全て手配していただきました。 特にホテルは立地の利便性、サービスなどは実際その場に行ってみないと判りませんし、リカルドさんのお勧めは全て大正解でした。 その他にもレストランのお勧めもして頂き、フィレンツェ滞在中は郊外のワインテイスティングも体験しました。 それとベニスとベローナでは、それぞれ日本滞在経験のあるイタリア人の方々による日本語でのツアーガイドも手配していただき、素晴らしい体験でした。 リカルドさんはヨーロッパ全体に広い知識と経験をもってらっしゃいますので、次回はギリシャ、もしくはポルトガル旅行をまたお任せする予定にしています。

Thank you Riccardo for the incredible Support! We've had one of the best times of our Lives!! Planning a Honeymoon/10th Anniversary is definitely not the easiest ?! We were so excited and keen to get it just right. After extensive research, we came across Voyemo, and decided to give them a go... Riccardo and his team were so knowledgeable and resourceful about the best places to visit. You gave us honest opinions about destinations and even reminded us Hurricane Seasons at certain destinations which could have been a major barrier. You put so much passion in the service you offer to clients and you make each journey person-centered! You were so patient and cooperative even when we got confused and came up with all sorts of ideas ?. We finally went with Singapore and the Maldives! Best decision ever!!!!! Riccardo made sure our transports were prompt to avoid any delays or having to wait at airports. Riccardo was kind enough to offer us list of places to visit and best rooftop bars in Singapore! In short, We've made Singapore a second home in the near future, that's how much we Love SG! The Resort in the Maldives Riccardo advised us to choose was Bliss! We made family with everyone on the Island and had the best Holiday by Far!!! Thank you Riccardo for going above and beyond to ensure we had the perfect Anniversary Holiday! Looking forward to you planning so many other getaways in the years ahead.. Love from Emmanuel and Abi

I had a great time in Peru with the help of Voyemo. The itinerary design and local guides are very professional. This is an outstanding travel design company and I would like to book my future trips with them.

I contacted Voyemo to design a small getaway I wanted in October. In the midst of Covid outbreak, they found the perfect solution close to my home, in an amazing hotel, with top services (massage, personal trainer spa) at a super good price. They were caring all throughout the process and answered every question I had with reactivity. I cannot recommend enough. I even already booked my next trip with them for next year.

We, two friends in need of some time off and relaxation stumbled across Voyemo in our search for a wellness/fitness holiday. We had both extensively looked for days and hours, trying to find a retreat early June, when Europe was only just slowly opening up. We provided Voyemo with our wishlisht on Friday late afternoon and had two proposals over the weekend, on Monday morning, meeting all of our wishes. On Zákhynthos we enjoyed a tailor-made program with daily yoga, tai-chi, pilates and fun private guided sports tours such as Kayak and SUP to the island's landmarks, yet avoiding the big crowds. We were so very well looked after in every step of the way! I wish we had known about Voyemo sooner! Highly recommend this agency!

I had a great time in Peru with the help of Voyemo. The itinerary design and local guides are very professional. This is an outstanding travel design company and I would like to book my future trips with them.

Riccardo is the travel agent anyone would love to work with: caring, precise, passionate and on time. Riccardo and i connected through mutual followers online. Working with him has been one of my highlight of 2022. If you are planning a trip anywhere in the world and are looking for a stress and hassle-free agent contact Riccardo that will taylor your trip planning an amazing and customized vacation for you. Can't wait to collaborate again!