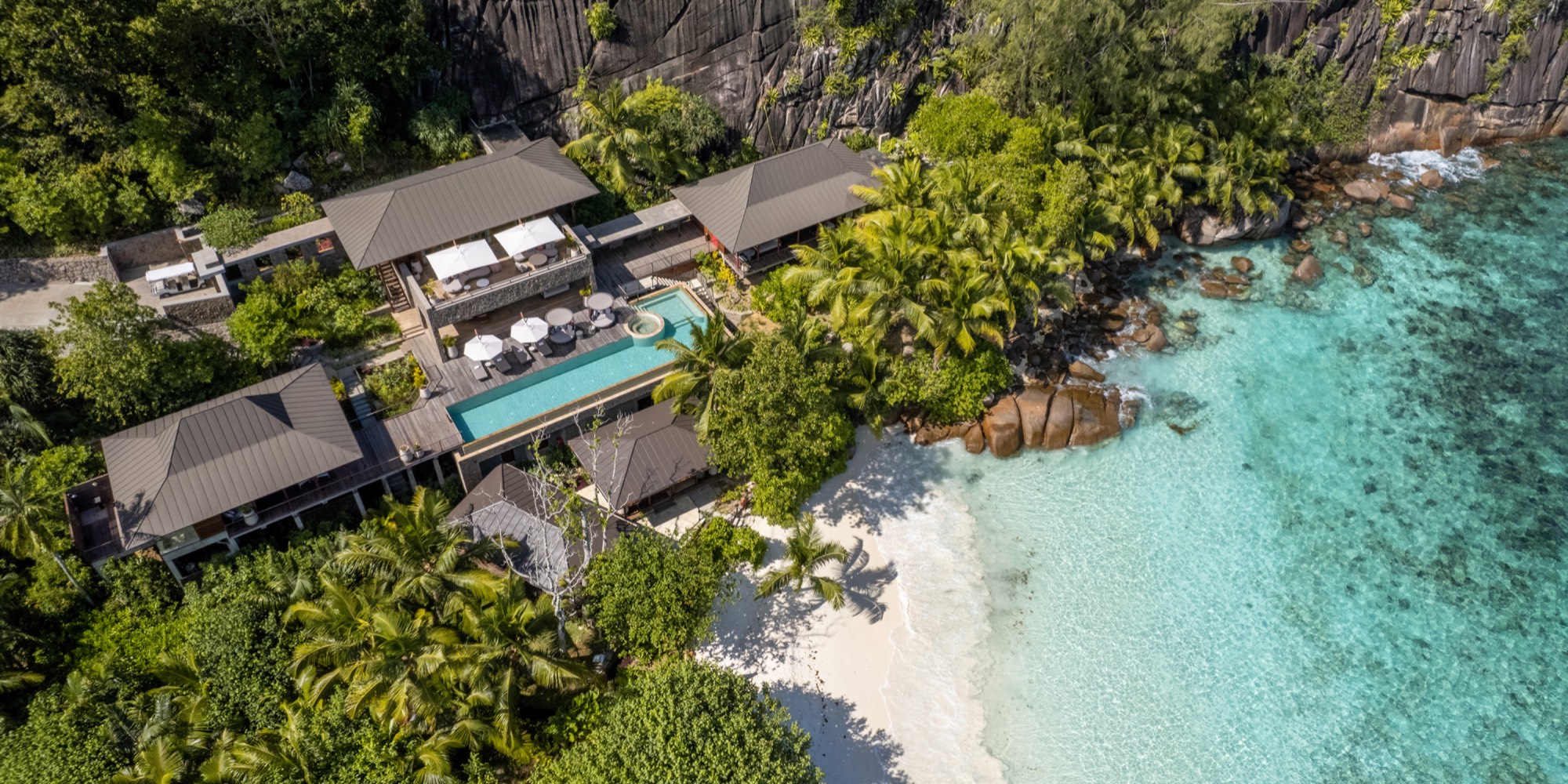 Four Seasons Seychelles
Discover the Best Resort in Mahe
Welcome to the enchanting world of Four Seasons Seychelles, one of the best resorts in Seychelles and the perfect destination for your dream tropical getaway. Have you put the auto-responder on the emails? Have you muted all Whatsapp groups? Unplug and immerse yourself in the spectacle of nature with all your senses. Remember, from now on you will only need your phone to take magnificent photos…
Immerse yourself in the unparalleled beauty of Mahe, the largest and most diverse island in the Seychelles archipelago. With its lush forests, majestic mountains, and crystal-clear waters, there's no shortage of things to do in Mahe Seychelles.
Are you planning a trip to those beautiful islands but feeling overwhelmed with all the choices?
Firstly, let's talk about where to stay in Seychelles. Nestled on the pristine shores of Petite Anse Mahe Island Seychelles, Four Seasons Seychelles offers an unforgettable experience, making it the best place to stay in Seychelles. It's the optimal starting point to explore the island's rich cultural heritage and embark on thrilling outdoor adventures.
The Four Seasons Resort Seychelles is an exquisite 5-star luxury resort on the main island of Mahé, offering the discerning traveller an unparalleled holiday experience. Situated in the picturesque bay of Petite Anse, the resort is surrounded by tropical forests and granite cliffs, fringed by stunning beaches and lapped by azure seas – a breathtaking backdrop for a holiday of a lifetime.
Accommodation options
The resort offers a choice of luxurious accommodation, including 67 tree-house style villas and suites with private pools and 27 residences. The villas are nestled in the natural surroundings, offering privacy and breathtaking views of the Indian Ocean. The suites have spacious living areas and private infinity pools, while the residences are designed for larger groups or families with separate bedrooms, kitchens, dining areas and pools.
Spa in Seychelles: Le Syel
Four Seasons Resort Seychelles features the award-winning, world-class Le Syel Spa, majestically perched on a hilltop with breathtaking views and inspired by the indigenous healers of the Seychelles. Guests can relax with a range of massages, body and beauty treatments using local ingredients and techniques. Indulge in a world-class spa, where ancient healing traditions meet modern wellness practices.
Activities on offer: design your vacation
The resort offers a variety of activities to suit guests' interests. These include water sports such as snorkeling, diving and sailing, as well as shore excursions such as hiking, wildlife watching and visits to nature reserves. The resort also offers cultural activities such as Creole cooking classes and art workshops.
Explore the island's lush nature reserves and botanical gardens, or dive beneath the waves to witness the breathtaking underwater world of the  coral reefs.
A team of experienced professionals will take you to the best spots, where you can marvel at the rich underwater world or catch some of the biggest fish in the region. Dive into the tranquil lagoons of Seychelles, teeming with vibrant marine life. Embark on a Seychelles cruise aboard our private yacht, exploring the nearby islands and hidden coves, or unleash your inner mermaid with the exclusive Seychelles Mermaid experience.
Romance
The resort offers a range of activities and amenities specifically designed for couples, including private beach dinners, couples massages, and tailor-made island excursions. As part of our commitment to offering an authentic Seychellois experience, we invite you to immerse yourself in the island's rich culture by participating together in a couple of traditional arts and crafts workshops or attending a lively local music performance.
Family Friendly
Families are welcome at Four Seasons Resort Seychelles, with special facilities and activities for younger guests. These include the Kids for All Seasons Club "Pti Torti". There are also dedicated family rooms, babysitting and child-friendly menus in the restaurants.
Weddings and Events
The resort is an ideal venue for weddings and, in partnership with Voyemo, offers bespoke wedding packages to suit the wishes of the bride and groom. An on-site professional wedding planner works with Voyemo to help organize the event, from venue selection to details of decor, food and entertainment.
Your pathway to an exquisite gastronomy
The resort offers an impressive range of dining options to suit a variety of tastes and preferences.
Known for its breathtaking views and elegant ambience, ZEZ Restaurant offers a daily breakfast buffet and creative Family Style Asian Izakaya to share in the evening.
With your feet in the sand, enjoy prime grilled meats, seafood and vegetables professionally prepared in a Josper charcoal oven at the Steack Shack beach restaurant.
The relaxed Kannel Restaurant serves Creole and Asian cuisine, with the menu changing regularly to showcase seasonal ingredients and fresh Seychellois produce.
The ZEZ Lounge is the perfect place to enjoy a cocktail or glass of wine at sunset, accompanied by light snacks and tapas.
The Kannel Bar, adjacent to the Kannel Restaurant, offers a relaxed atmosphere for a pre or post dinner drink.
Take a seat at the chef's counter in the intimate Japanese restaurant KOI and watch the culinary team prepare sushi platters, tempura, signature rolls and savoury appetisers against the backdrop of the Petite Anse hills.
In-Villa Dining Service allows guests to choose from a special menu in the privacy of their villa or suite, including romantic private dinners on the beach or in the villa.
The resort places great emphasis on the quality of ingredients and sources many products locally to provide guests with an authentic culinary experience.
As a valued Voyemo customer, you will enjoy special benefits such as the best rates, VIP status and special amenities thanks to our premium partnership with Four Seasons.
Be enchanted by the beauty of the Seychelles and experience an unforgettable luxury holiday at Four Seasons Resort Seychelles.
Amenities
67 tree house style villas and suites with private pools
27 Residence Villas
Award-winning Spa and yoga program
4 restaurants and 2 bars
170 acres of tropical hillside, overlooking the picturesque Petite Anse beach
"Pti Torti" kids club
non-motorised watersports: kayaks, pedalos and snorkeling
Marine education by WiseOceans
Surf lessons by Tropicsurf